RuneScape 2
Jump to navigation
Jump to search
RuneScape 2, known as RS2, was a version of RuneScape that existed from 2004 to 2012. It is considered by most to be the most successful ever version of RuneScape, particularly the 2006 period. The Wilderness Guardians played this version of RuneScape from the beginning to the end of it.
History
2004 - 2007
WG transitioned well into RuneScape 2, and had their first war against the Rune Outlaws on November 27th, 2004. They continued to climb in the world of main clans, defeating The Unbreakables. However, they also ran into several issues, such as exodi (breakaway clans formed by ex-members unhappy with WG) including The Revolution and The Synergy. A backstabbing incident within the clan also prompted His Lordship to record a rant directed at the culprits, known as the TeamSpeak Rant, which became one of WG's first viral pieces of media when it was made into a soundboard. WG fought Dead on Arrival on July 9th, 2005 in the first war to use Ancient Magics after their release - though the fight was crashed, the video of the battle became famous throughout the clan world.
In 2006 His Lordship temporarily stepped down, and Tmal34 and Twizzlers300 took over leadership. They pushed WG to continue climbing the P2P ranks, and the clan found themselves challenging the likes of Reign of Terror for the rank of #3 P2P in the summer of 2006. However, His Lordship was unhappy with the direction the former anti-PKing clan was taking, and shut down the clan for a brief period of 3 hours on December 1st, 2006 (known as D-Day). It was the only time WG has closed in its history, and over 100 members would leave over the subsequent few days - bringing an end to WG's era as a competitive powerhouse.
His Lordship returned to leadership and attempted to rebuild WG over 2007, releasing a popular animated Flash movie and the first of several recruitment videos featuring himself in real life. However, the clan's success stalled again with the removal of free trade and PvP in the Wilderness on December 10th, 2007, despite their efforts in organising the protests at the time.
RuneScape HD (2008 - 2012)
WG continued to fight in the BH, Clan Wars, and later PvP worlds. They also started to take a more community-driven approach, and even hosted the first example of a real life meeting in London on January 12th, 2008. WG would go on to host over 10 more real world events, including attending 3 of the annual RuneFests in 2010, 2011 and 2013. They also developed real-world merchandise, starting with a clan t-shirt which sold hundreds of copies (some of which were also given to Jagex employees), and later clan pens which were handed out at RuneFests.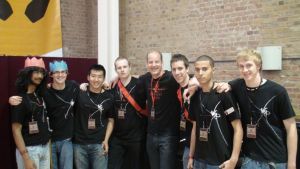 WG continued to progress in the PvP clan world - defeating Crimson Raiders in January 2009 for rank 10 in the Zybez RAW list, and would reach rank 3 in the Tip.It War Rankings (TWR). They also started to receive attention and recognition from Jagex for their popularity and longevity. WG would go on to be featured on the RuneScape main page in newsposts and interviews over five times, came runner up for a Golden Gnomes video entry, had their artwork featured in the 21st Player's Gallery, and even fought against the J-mod-run clan the Pink Patrons of Pain in which they were outnumbered 40 to 100+, and won without a single death.
In 2011 Wilderness PvP was restored, but WG realised that the game experience was not the same as it was pre-2007. His Lordship and co-leader Vio collaborated to make a video documentary titled The Wilderness - An Unauthorised Biography in 2012, which achieved widespread fame and has been cited as influential in both the Evolution of Combat and Old School RuneScape.
---